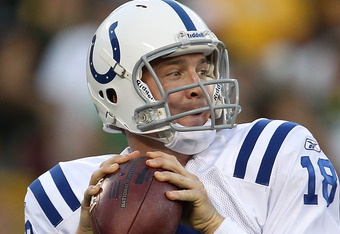 Peyton Manning, Drew Brees, and Tom Brady are the elite quarterbacks in football. But why is the term being used so much in modern day football?
The 2010 NFL season is ten days away. Predictions and rankings are at its peak with sports bloggers everywhere.
The biggest topic of them all? Ranking the top quarterbacks in football. Who are the top ten quarterbacks in the league? That is one question constantly being asked.
Lately, I have been seeing an issue with the rankings of these quarterbacks. In fact, I'll even admit that I have been too generous with rankings.
When analyzing a quarterback, the term "elite" is being thrown around way too much nowadays.
Many people consider all of the top ten quarterbacks as elite. In my opinion this is a ridiculous assumption.
In recent months, I have heard people criticize ESPN's own John Clayton for using the term elite way too much.
Having never seen a list from Mr. Clayton, I came upon his for the first time today, as the leading story in the NFL section of ESPN.
When I took a look at the list, my thoughts were simple. He has an idea of who the best quarterbacks in the league are, but has a completely different viewpoint of the list.
Aaron Rodgers may be among the league's elite if he can find more success in 2010.
I am not going to share his entire article with you, but he does seem to see every quarterback as an elite one in this league: Both Manning's (Peyton and Eli), Tom Brady, Drew Brees, Joe Flacco, Carson Palmer, Aaron Rodgers, Ben Roethlisberger, Brett Favre, Philip Rivers, Tony Romo, Donovan McNabb, Matt Ryan, Matt Schaub.
Yes, it is a very long list. I am not ripping Clayton in any way. In fact, he is one of the handful of journalists I still respect in this business. In my opinion, half of these quarterbacks aren't ready for the elite stage.
They are on their way for sure, but have plenty of work to do before being considered elite.
In a short, simple summary, here is how I would label my quarterbacks.
Elite: Peyton Manning, Drew Brees, Tom Brady
They are my only elite quarterbacks in the league. All have earned a ring, and have been near the top of the league statistically in recent years. Though guys are catching up to them, they are still cream of the crop, and ahead of the competition by a decent margain.
On the cusp of being elite: Ben Roethlisberger, Aaron Rodgers
Roethlisberger is probably elite in most people's minds. I just want to see how he responds after all the turmoil in the offseason. Bottom line: Big Ben makes the case of being the most clutch quarterback in the league right now.
I am also becoming Aaron Rodgers's biggest fan. Sitting on the sidelines for the first few years of his career has helped him greatly. He also has all the great weapons to succeed. Biggest question will be if he can finally beat Brett Favre and have success in the playoffs.
Very Good: Brett Favre, Tony Romo, Philip Rivers, Eli Manning, Joe Flacco, Matt Ryan, Matt Schaub
Now this is where my list gets bigger, and for good reason. These quarterbacks listed right above are either near elite status in the league right now, or are continuing to make progress as quarterbacks right now.
Heading into the year, my views have changed on Brett Favre. He isn't in the elite category anymore. He is a very good quarterback, and a top one for sure. However, Father Time is catching up to number four this pre-season.
Romo, Rivers, and Eli Manning need to have more success in the playoffs, period. Yes, Eli has a ring, but has not played anything like he did a few years ago when he led the Giants to victory.
The next three look to be among the league's elite in a few years, but not right now. Joe Flacco is taking more control of the Ravens offense, especially with his new weapons.
Matt Ryan had a sophomore slump (battled injuries) and should return strong in 2010. Matt Schaub is my biggest sleeper of them all. I can see him as a dark horse MVP candidate this year. With Andre Johnson in his corner, he will find success in the passing game.
Point blank: Everyone has a different belief of the top quarterbacks in football. In today's world, the term elite is used more often than not, and it shouldn't be that way.
At most, I only can see five quarterbacks being considered on the elite level in 2010. There are plenty of good quarterbacks in the league, but need to be held at a much different standard than we normally hold them to.
Matt Miselis is an NFL Featured Columnist for BleacherReport.com.
Follow me on twitter: http://twitter.com/MattMiselis
Read the full original article…