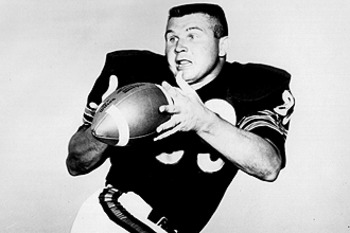 The highest a tight end has ever been drafted is with the 5th pick in the NFL Draft.
This happened in 1961 when the Chicago Bears chose Mike Ditka out of the University of Pittsburgh.
Mike Ditka played 12 seasons in the NFL, six with the Bears. He played in 84 games in his six seasons in Chicago.
He made 316 catches for 4503 yards and 34 touchdowns. He averaged 53.6 ypg. He was voted to five straight Pro Bowls from (1961-1965).
He went on to win two Super Bowls in four years with the Dallas Cowboys. He spent his last two seasons with the Philadelphia Eagles appearing in 20 games.
Ditka had great success as a player and soon there after coached pretty darn well too. Ditka was an assisted coach with the Dallas Cowboys from 1973-1981.
He was hired by the Bears as the head coach in 1982 and stayed there until 1992. Ditka finished his coaching career with the Bears posting a 106-62 record and .631 win percentage.
He led the Bears to seven post season appearances in his 11 seasons as head coach. He coached the Bears to a Super Bowl XX win in 1985 and two other NFC Championships in which the Bears fell to the San Fransisco 49ers.
He went on to coach the New Orleans Saints for three years (1997-1999) and didn't have great success, going 15-33 with .313 winning percentage. He often refers to those three years as the worst years of his life.
He now is a legend in Chicago owning three of his own steakhouses called Ditka's, two in Illinois and one in Pennsylvania.
He works for ESPN appearing on NFL Sunday Countdown and ESPN 1000 in Chicago regularly.
For more news on Twitter, follow @Bearsbacker.
Read the full original article…